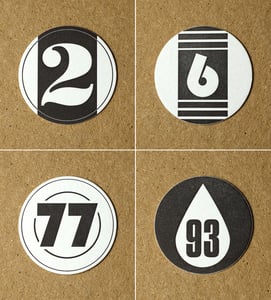 $

3.00
Race is a Camp original coaster series inspired by the call numbers and designs of racing cars that participated in various international racing circuits of the 1970s.
Each design is letterpress printed on hefty two-millimeter coaster stock for ultra soakability. Drink up, speed racer!
Coasters measure 3.5" in diameter. Choose one of four designs: #2 Hippie, #6 Spyder, #77 Targa, and #93 Hervé.
*Desired quantity can be adjusted in shopping cart.